The 1940's was a great decade for movies in classic Hollywood! Some of our favorites came from this decade.

Here is a list of forty movies from the 1940's!
The list covers all genres, drama to comedy, and mentions classics and lesser known gems. These are listed in random order and are not ranked. See how many you've seen and which ones pique your interest!

"Saboteur" Robert Cummings, Priscilla Lane
1. Sitting Pretty: Robert Young, Maureen O' Hara, Clifton Webb
2. The Egg and I: Claudette Colbert, Fred MacMurray
3. Woman of the Year: Spencer Tracy, Katherine Hepburn
4. Saboteur: Robert Cummings, Priscilla Lane
5. The Major and The Minor: Ray
Milland, Ginger Rodgers
6. My Favorite Blonde: Bob Hope

7. Miss Annie Rooney: Shirley Temple

8. The Fleets In: Dorthy Lamour, William Holden
9. Andy Hardy's Double Life: Mickey Rooney, Esther Williams

10. My Favorite Spy: Bob Hope, Hedy Lamarr
11. Springtime in the Rockies: Betty Grable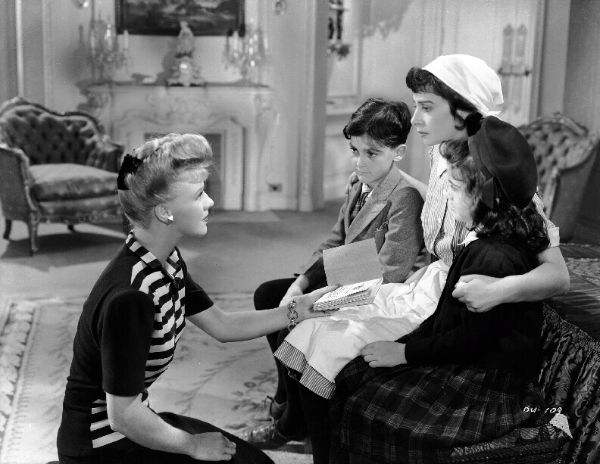 "Once Upon a Honeymoon" Ginger Rogers

12. The Doctor Takes a Wife: Loretta Young, Ray Milland
13. The Magnificent Ambersons: Joseph Cotton, Ann Baxter

14. Once Upon A Honeymoon: Cary Grant, Ginger Rogers

15. Boston Blackie Goes To Hollywood: Chester Morris
16. The Courtship of Any Hardy: Mickey Rooney

17. Sargent York: Gary Cooper

18. The Bachelor And The Bobbysoxer: Cary Grant, Myrna Loy, Shirley Temple

19. Moon Over Miami: Betty Grable, Don Ameche, Robert Cummings

20. The Stratton Story: James Stewart, June Allyson

21. Never Say Goodbye:Errol Flynn, Eleanor Parker
"The More the Merrier" Jean Aurthur, Joel Mcrea, Charles Colburn

22. The Barkley's of Broadway: Fred Astaire, Ginger Rogers

23. The More the Merrier: Jean Aurthur, Joel Mcrea, Charles Colburn

24. I Was a Male War Bride: Cary Grant, Ann Sheridan
25. Foreign Correspondent: Joel Mcrea, Jane Wyman

"I Was A Male War Bride" Cary Grant
26. Random Harvest: Ronald Colman, Greer Garson
27. My Favorite Wife: Cary Grant, Irene Dunn

28. It Started with Eve: Deanna Durbin, Robert Cummings

29. The Snake Pit: Oliva de Havilland, Mark Stevens

30. National Velvet: Elizabeth Taylor, Mickey Rooney
"Laura" Dana Andrews
31. High Sierra: Lauren Bacall, Humphrey Bogart

32. The Heiress: Montgomery Clift, Olivia De 'Havaland

33. The Third
Man: Trevor Howard, Orson Welles

34. Laura: Clifton Web, Gene Tierney

35. Murder My Sweet: Dick Powell

36. Mildred Pierce: Joan Crawford

"His Girl Friday" Rosalind Russell, Cary Grant
37. The Post Man Always Rings Twice: John Garfield, Lana Turner

38. His Girl Friday: Cary Grant, Rosalind Russell, Ralph Baloney

39. Woman in the Window: Edward G. Robinson, Joan Bennett

40. The Lost Weekend: Ray Milland, Jane Wyman