Hello Everyone!
We are very excited for our first GIVE-AWAY!!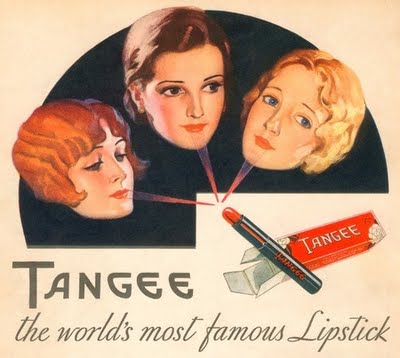 We discovered this vintage lipstick called Tangee. This iconic lipstick has been around for over 70 years! Although the lipstick is orange it "goes on clear and gradually turns into the perfect shade for you...It moisturizes lips to prevent drying and chapping and looks freshly applied for hours." We've never used it but it sounds pretty cool and wanted to give you readers a chance to try it.
So tell your friends, tell girls at work, tell your mom, tell anyone who you would think would like to enter.

TO ENTER: all you have to do is follow the blog publicly (if you follow privately we cannot see you), and post a link to this give-away on some sort of social network (Instagram, Twitter, Facebook, Blog, etc.) then attach a link to your post in a comment. Please only enter once. Remember not to include any personal info.
The deadline is November 26th.
The winner will be posted within that week.
*We regret to say this giveaway is extended to only those in the United States and Canada at this time*

Hope you win!
Sincerely, Vera, Viola and Viv